Full Member
This is Jessi-cat, tuxedo elasti-cat and I am increasingly convinced, feline genius extraordinaire. She came to us for holidays and the fostering is now permanent.
The books are a draw...unless...
could it be the cat-nip in that small packet you can see if you look carefully, resting on the biography of the courageous/comical/obnoxious Madame de Stael;
Mistress To An Age.
Those sprinkles on the floor...that's her drugs den.
Cat-nip, she likes to get off her bonce on that stuff.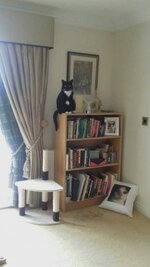 Last edited: