We all know it is a marathon.
Dostoevsky
's writing workbook, The Brothers Karamazov, 1880.
When you think of all the redrafting, revisions, assuming you've got something good going in the first place....even with the might of IT at our disposal, it boggles belief.
I hardly dare guess how many hours I have sunk over the years into just one unpublished novel.
But this, was just ONE of his mega novels. I mean just LOOKADDIT.
Passez-moi les smelling salts.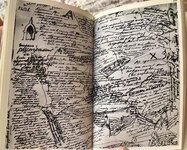 Last edited: