I know that there are several experts on this and its more 'specialist' aspects, here in the cafe'. That came out wrong - I didn't mean on the table (he recalls first rule of holes - non-sexual - and stops digging). Anyway, I picked up an old newspaper this morning to cut out the Toughie Crossword for future puzzlement (they usually take me about 3 weeks to complete with a little help from my friends). The paper was the Daily Telegraph of 30 May 2017.
There was an interesting piece in there about the Hay Literary Festival and specifically on the subject of
Jane Austen and the way she wrote about sex
. I'm not a Jane Austen lover (mainly due to lack of exposure) and the article was illuminating for me.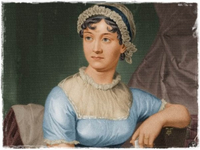 I don't often write steamy scenes in my novels, but in
Sicilian Channel
there was an exception. The explicit scene just flowed from the story and seemed perfectly natural in the context. Only one person has commented on that scene I wrote and
he
said that it made him feel uncomfortable. There was nothing 'unnatural' in that specific scene (although some other scenes were arguably sexual from an S&M perspective as one of my characters is a lesbian psychopath).
There is of course a difference between 'writing about sex' as in a manual, and writing a sexual scene in a novel, and I'm ready to take instruction from experts.
By the way, the pic is a colorized engraving of Jane Austen, based on a drawing by sister Cassandra. (Photo: Author unknown, [Public domain], via Wikimedia Commons)