Full Member
Writers Take Risks​


Are you doing enough reading?

Are you being too careful with your writing?​




"You can't write fiction and be careful. You just can't. I've seen it with my students over the years, and I think actually the biggest challenge a writer has is to not be careful. It's just not going to work."
–
Elizabeth Strout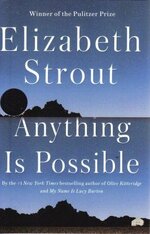 Words have power. This power works for good or ill, but what else is writing for, and fiction,, if not to tap that power?
That is the Holy Grail of fiction writing, any genre, any age group. Vision and connection. Anything less is a wasted opportunity. What is a story for but to make us
feel
something? Readers bring something of their own to any story, but they don't take from a story what was never put in because the writer was afraid of the power of their own words, and bottled it.
A book, once published, is birthed. The writer no longer controls or owns it. OK. Legally, they may do so, holding copyright, but the story is now an entity in its own right, roaming wild and free as a …well, take your pick, leopards, zebra, wildebeeste...
This is a scary prospect. No writer wants to hear their baby is ugly, assuming if it is ever published. And that is a big 'if', while it is only natural to wonder what might result from their efforts, investing scores or even hundreds of hours working on a poem or short story, while a novel demands many months or even years.
Keri Hulme spent twelve years writing her award-winning first novel, 'The Bone People'. Michael Crichton worked eight years on researching and writing 'Jurassic Park'. Eight years from the commercial as well as literary point of view, brilliantly well-spent. But this is so easily said with the benefit of hindsight. He must have spent some desperate days, wondering if he would ever step off this hamster wheel.
It is only natural to wonder, but it is downright artistic sabotage, trying to get that monstrous first draft down, if one is already worrying who is going to publish this novel, or what readers or reviewers are going to say about it.
This is to put The Muse last, and Ambition first, Art last and Business first. Publishers want something to sell. It is their business, and writing fiction is a skill. Without that The Muse can howl all she likes, she will not be satisfied. But at the same time The Muse must come first for the writer. Or there will be no golden egg for them, or anyone to sell.
It can so easily become fear, and fear is paralyzing.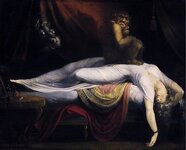 The Nightmare, Henry Fuseli
So what is the advice from writers who have been there? What is the antidote?
'Get it down. Take chances. It may be bad, but it's the only way you can do anything really good'-
William Faulkner
There is Vision and Execution. There is Art and there is Craft. There is natural writing talent – yes there is such a thing - and then there is the discipline of skill or craft, and it is this discipline which liberates the expression of talent. Singers have a voice already, it is natural, but they warm it up before they use it. Maybe they undergo training. And a singer also needs a good ear. The writer also has a voice, and they need an equally good ear. They better had. No one can be a writing who has a tin ear or a cloth ear for what's going on around them.
But applying that 'ear' and developing that voice for maximum effect takes craft. It demands huge, massive, crazy amounts of practice. Often it comes down to something as simple, and as difficult as word order in a sentence. Newbie writers often fail to land a punch through failure to consider word order.
Originality is the one thing that cannot be taught. It is a question of the writer's vision and it is unique, hardwired and organic. Then comes discipline. Originality can fall at the fence of poor craft.
It is plain to see when a budding writer has never been much of a reader. But the habit of reading is the first, last and truest writing apprenticeship instead of, or outside of writing classes.


"You learn by writing short stories. Keep writing short stories. The money's in novels, but writing short stories keeps your writing lean and pointed" -
Larry Niven
Who is interested in anything a writer has to say? Who wants to hear it? Who wants to read it? Especially an unknown writer. They will, if it's big enough, strange enough, new enough, and it's coming from you, but it is not all about you. They will if they feel there is anything in it for them. If they can find meaning and resonance in it because the writer went somewhere and came back with what they found, and is not be afraid to tell the truth of whatever they have got to say, but without any hint of polemics or preaching, which in fiction reading is a killer turn off.
'To Kill A Mockingbird' did not preach. It did not need to. The story was the message.
What is meaning? It is wherever the reader finds it, but it depends on connection between the writing and the reader. The writer draws a line from a star to a grain of sand, such that the reader sees, follows it, joins the dots, hears the music.
People don't just want stories in all their many forms. They are hungry for them. They
need
stories, adults and children alike. Humanity is hard-wired that way, for its psychical health; for entertainment, for escape, to travel on a magic carpet and to feel something, learn something new, for companionship, for a sense of belonging. And for courage, to feel less alone with a problem, making new sense of things.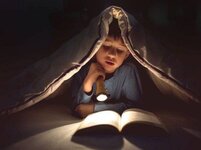 The job of a story- teller, and the grail of fiction writing, is to reach out, in reaching within.
"Don't try to figure out what other people want to hear from you; figure out what you have to say. It's the one and only thing you have to offer".
–Barbara Kingsolver
Being too careful is like painting by numbers. If your writing's boring you, why won't it bore the pants off everyone else? Rather than forcing the rhubarb, beating yourself up, why not give yourself a break, and work on something else? Stick it in a drawer for six months, it's astounding what you see that you couldn't see before, next time you look at it. You'll make a fresh take on the work in progress. Or you'll find you have moved on and shelve it.
"Someone's boring me,"
Dylan Thomas once said, "
I think it's me."
He was sick of his own thoughts, but he had the ability to self-diagnose. What makes writers- and people in general boring? People will have their own ideas about this. I would say it is a manifest lack of curiosity about the world, a terminal lack of interest in others, with an eternal focus on their own inner pre-occupations, expressed from the inside out. No new insights, no connection, no empathy with others, to share what they've got to say, because they are looking too hard at their own navels. It is the failure to observe and respond, while stuck on send mode.
Everyone has their off-days. No-one is immune, but if there is only one rule in writing, could that be it? Don't let it be boring. It won't be, if your writing comes
from
you, but it's not
about
you. It's essentially or ultimately about THE EVERYTHING just being told your way, as only you could tell it.
We jump for joy. We take leaps of faith. Writers have to leap. Scare yourself silly. You should be scared. This is scary work, 'naked unto your enemies.' Just don't let it stop you. Think big. You are thinking big? Well, think bigger. Use it up and pour it out. The writer is working with the elusive entity of wonder.
'A faint heart never won a fair lady', as the saying goes.
The lady is The Muse.
Last edited: