Capo Famiglia
Guardian
Full Member
Narrator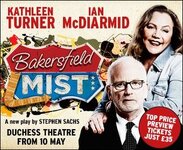 To the Duchess theatre last night for
Bakersfield Mist
, a one-act two-hander starring Kathleen Turner and Ian McDiarmid. Thoroughly recommended, well worth seeing.
I was especially struck by McDiarmid. Formerly only known (to me, at least) as Emperor Palpatine from Star Wars, a role he played with suitably English (he's a Scot, btw) lip-curling menace.
The man is versatile and highly-watchable, up there with that other great Scot Mckellen. His role as an insufferable art snob with a guilty secret is the better of the two (devil always gets the best roles, don't you know) allowing him a broad canvas of emotional expression and the audience much glee.
Then there is Ms. Turner. I think I caught her on a challenging night. She was most likely suffering from hay fever or perhaps an URT infection. But she gamely soldiered on, and delivered the goods.
Of the two, McDiarmid is the more dangerously talented actor. I would watch this man drink a cup of tea, and feel some dramatic apprehension while doing so. He has an easy relationship with the audience that says,
keep your eyes on me, you won't be disappointed.
Ms. Turner has rather less range, less thermogenic output.
So who is the star, then?
It's Kathleen Turner.
And that rather foxes me.
Clearly, there are factors at work in the star equation other than raw talent. It's a factor, certainly, but only one.
So what makes a star, then?
In this celebrity-obsessed age, I think we may be in danger of forgetting. Certainly, "stars" are finding it harder to be reliably bankable. Think Johnny Depp's less-than-victorious ventures outside the "Pirates of the Caribbean" franchise – or Mike Myers bereft of his "Austin Powers" persona.
The truth is, I'm no longer sure what makes a star, nor whether we even need their enduring brilliance in this 140-character era. Maybe the Age of Stars is drawing to a close.
What do you think?
Last edited: