This Friday, Daisy Waugh, prolific columnist (Times, Sunday Times, Independent...) and author of, like, more books than I have fingers (10) is coming on Litopia After Dark. If you have any questions for her, please do post them in this thread and we will do our best to work them in. Spicy is good!
Ostensibly Daisy will be promoting her new book
Honeyville
, a historical novel set in 1913 Trinidad, Colorado, the only town at the time where prostitution is legal-- I'm a few chapters in and still reading, which is something...
But she's also written on motherhood, screenwriting, city and country life, property, restaurants...
Plus she is the grand-daughter of some dude called Evelyn Waugh? 'Parently some famous writer guy...?
Her web-page
http://www.daisywaugh.co.uk/
Will post an alert once the interview is broadcast!
many thanks!
requisite dog pic for emotional blackmail purposes here: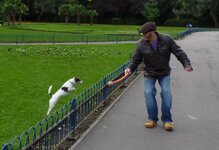 Last edited by a moderator: