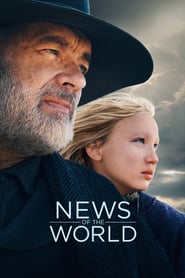 Title:
News of the World
Tagline:
Find where you belong.
Genre:
Action, Adventure, Drama, Western
Director:
Paul Greengrass
Cast:
Tom Hanks, Helena Zengel, Fred Hechinger, Michael Angelo Covino, Thomas Francis Murphy, Elizabeth Marvel, Mare Winningham, Neil Sandilands, Chukwudi Iwuji, Christopher Hagen, Stafford Douglas, Michelle Campbell, Clint Obenchain, J. Nathan Simmons, Annacheska Brown, Bill Camp
Release:
2020-12-25
Runtime:
118
Plot:
A Texan traveling across the wild West bringing the news of the world to local townspeople, agrees to help rescue a young girl who was kidnapped.
Enjoyed this. It has a theme about the importance of story + it made me shed a tear at the end.