So I'm doing that crazy-assed NaNo thing, only because our local RWA (Romance Writers of America) chapter participates in a War of the Words competition each year, and they begged me to do it to boost their numbers. LOL! Thing is, knowing I NEED to make the word count so I don't let down the team has had an interesting effect on my writing this month.
Like so many people, I tend to wind down as the holidays approach, and become a bit blue. I don't know if it's the time change, or the stress we place on ourselves over first Thanksgiving (less than a week away here in the USA!!!), and then Christmas, but my writing typically slows WAY down for a few months while I get through this and fight the doldrums Winter can bring.
But hey... it isn't happening this year. LOL!! I have a release on the 29th of this month, the next book in that series has already been submitted, and I'm well on track to have the last book in that series submitted before this month ends. The BEST part is that I don't feel stressed, or pushed, or like I did way back when during those few years I was writing to specific deadlines.
I don't know if it's because I'm doing this to help out my writing friends, or if having this goal is helping me ignore the gloomy weather and upcoming holidays, and instead focus on my writing, or some reason entirely and as yet unknown to me. But it's DIFFERENT this year. My head is clear. I'm really enjoying this.
So anyway, no real point to this or deep questions to ask. I simply wanted to share.
Thanks, as always, for listening.
And here's some great stuff from Stephen King.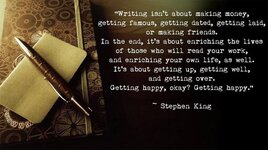 ​