Link dump. Boo! Hiss! Soz. But.....
BubbleCow | Who Else Wants To Know How Many Copies Novels Actually
And, ahead of Peter's next virtual seminar on the 2oth, though I may by now be risking a blackballing
http://bubblecow.com/what-is-the-best-book-genre-to-write
Have a peacock. Seen outside my window last week. He terrifies the ducks.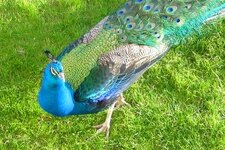 Last edited: