Full Member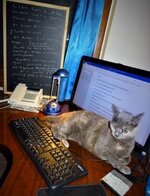 Some years ago The Guardian printed an article on writer's rooms and showed pictures of writers at their working desk, giving explanations of their routine and any oddities that they particularly enjoyed.

Wouldn't it be fun to tell each other about the rooms we write in


As you can see from the picture, @Barbara's suggested chalk board is in the background with notes on my WIP. Sitting in a rather prominent position is my personal assistant who casts, intimidating, if not threatening glances for me to sit at my desk and get on with it.

However, once my assistant is satisfied I am earnest in taking up her counsel, she will remove herself from the central working area and supervise from a side angle.

Do you have a special room/corner to work in or an assistant?