Sky Arts used to host a great programme called the Book Club. A segment of the programme involved interviewing authors in their 'Write Space' . I thought it fascinating every week, watching where writers craft their skills, from tables under stairways to studies that looked like the oval office.
I know I'm new to this forum, but I thought it would be interesting to show our Writing Spaces - the place where we craft the dreams into the written word.
I converted my loft several years ago, had a major clear out at the beginning the summer - This is the view from my desk ....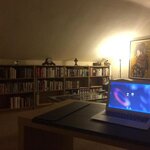 Would love to see your Writing Spaces.