Hi everyone,
That question above –
What fills you with wonder?
– I've been thinking about it lately, thinking about what I like to read (all kinds of things) and what I like to write (mostly fantasy). I love that feeling of awe, that feeling of smallness that wonderful things engender.
The human spirit does it. I've a friend who has four kids, the youngest are twins. He lost his wife to cancer a few months after they were born. I can't imagine what he's been through in the quiet of his mind, but his kids laugh as they play in the park, and he smiles every day. That fills me with wonder.
The human mind does it. My youngest, a toddler, asked me to look after his juice the other day.
"Daddy, you keep this while I go on the slide."​
"Okay, no problem"​
"Don't drink it!"​
"Don't worry, I won't."​
The exchange made me realise that he'd now got his head around the idea of
others
and what they might do. His world is now a whole lot bigger. That fills me with wonder.
And the natural world does it (of course it does!). Where to even start with this one? I know how rainbows are made, but that doesn't stop them from being magical. I'd never seen a double one until I came to live in the mountains, and now I've seen several. That fills me with wonder.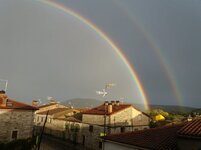 What fills you with wonder?