Anything to stop all this clamouring for more spiders. Those on Twitter will see where this is coming from. This is Ida. I drew these to go with a children's story, sitting in a drawer somewhere.
Ida lives in a crack in a wall in a utility room. Some heartless, stupid, careless zealot of a cleaning human just destroyed her web.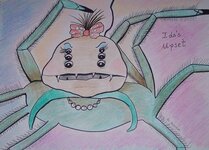 But a spider, any spider, is nothing if not resilient. She has calmed down, re-spun her web, and settled to a spot of light reading while waiting for a nice fat juicy fly. And her reading this evening, Famous Spiders in History. Next in the queue, that book on the floor, Humans, Terrible But True: The Facts.