I'm just SO happy with the cover for the 7th Weathermen book - A COVERT CONQUEST - that I wanted to share the first 7 so far. This series has 12 books. Each time I think
Jay Aheer
, the cover artist for all my Evernight books, has outdone herself, she surprises me.
The series covers so far are in the graphic below that Evernight made for me to use in promotion. The books in order are
An Appetite For Blackmail, Obsession By Design, The Price Of Secrecy, Exclusive Access, A Slow-Burning Dance, Taking Passion By Storm, A Covert Conquest.

The Second Time Around
will release next month, and the last four titles in the series are
Systematic Seduction, Hardwired for Ecstasy, Ruthless Temptation,
and
The Harder They Fall.
It's my hope to have them all submitted by mid-February.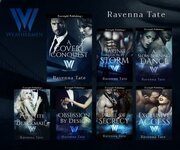 Last edited: