I'm generally a hyper-organised person. So much so, I usually refuse to talk about the organisation of my life because most people think it's weird and a bit obsessive-compulsive. But I also get a lot more done than most people I know, and I put it down to organisation.
So anyway, for the past 30 years, I have created quarterly plans for myself for work. They're based on a quarterly reporting system I had to use when I was in the Peace Corps. I've modified it slightly over the years, but the basics are the same: a simple one-page table with goals, steps to achieving those goals, deadlines, the all-important tick-box for completion, and notes (where you can explain to yourself why you didn't accomplish something, or note future goals now that you have finished something...).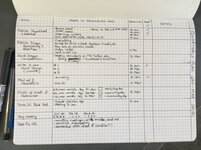 Last year, I struggled to meet my quarterly goals around a new job, building a house, selling a house, and general life stress. This year I'm still building a house (it apparently takes FOREVER!), and will be moving twice and still have that pesky day job... So I'm worried I'll miss my goals again. So I've taken the plunge and given myself word-count goals for the first time ever. They're daunting, but I'm hoping they'll keep me on track (and at the very least, they remind me that I've got to work evenings and weekends to keep up the full-time output I was used to before last year).
I know we've talked before about goal-setting and organisation, but it's always worth revisiting. So tell me how you set goals? How do you track progress? How do you keep yourself on schedule? Or are you less obsessive-compulsive about it all and think I should lighten up or maybe get therapy?