Jun 20, 2015
7,528
16,478
As part of building an online author platform this year, I've been coming up with different designs for the covers of my five
Cornish Detective
novels, as well as monkeying around with Celtic style fonts and producing banners to go across the top of significant pages.
I favour
IrfanView
to create images, as
Gimp
confuses me with its complexity.
I've been keeping an eye on trends in book cover design, mainly via the excellent
The Book Designer
website—site owner Joel Friedlander tackles more than just book design—his newsletter is worth subscribing to.
In the last year, there have been lots of covers with the title of the book in big capitals in separate blocks down the cover. It may just be a fad that passes, but it affected my design for the last novel I wrote. It opens with a murdered painter's body being found encapsulated in a concrete statue in an underwater dive park. The statue resembles the
Venus de Milo.
Trawling through copyright-free image libraries, I chanced upon a photograph that resembles the famous statue, so I used it as a basis for a cover. It needs finessing, as the face is obscured and I'll try changing fonts and colours.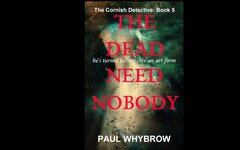 Researching book covers this morning, I stumbled upon a Latvian artist called Aniko Kolesnikova who produces book covers that are dazzlingly beautiful...collectible in their own right.
Fairytale Book Covers By Latvian Artist Aniko Kolesnikova
(click through Continue Reading to see all three pages)
Right! That's put me in my place!