Full Member
I don't know if it was a dream or thinking half in sleep, but an episode which must have occurred sometimes in the summer of 2015 came to mind. When I woke this morning, I knew, I just had to include it in my WIP.
For those not familiar with my WIP:
Satan in the Sanctuary
, it is the story of our parish lay-nun who shows signs of attachment to a maleficent entity.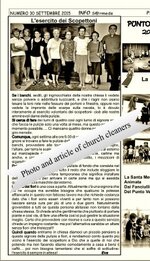 But back to my nightly adventures. In the summer of 2015, someone asked me to write an article on the church cleaners because they were short of volunteers and needed some publicity. So, one Friday morning our parish Priest asked them all to turn up so I could take a picture for the parish magazine.
The lay-nun turned up with a tank of liquid polish cleaner for the church floor, saying it was very effective; and as the Bishop was coming Sunday the church had to be really spic and span. So, they all set to work with mops and brushes. After a while I came back to take a photo and wanted to compliment them on a job well done so as to boost their morale. To my amazement, I found doors and windows were thrown wide open, even those that had been bolted for years! I stepped inside and almost fell backwards by what seemed the smell of rotten sewerage filling up the church. I held my breath and ran out.
For those not familiar with demonic influences; one recognisable feature of the demonic is the putrid smell which human knowledge cannot compare or identify.
Why that episode should suddenly emerge in the middle of the night, I have no idea, but to me it's an omen, too good to ignore. It will add to the other tell-tale events in my WIP, because this smell is evidence of Satan at work- it had nothing to do with the cleaner- for heavens sake, who would sell such a thing, let alone buy it?
Like all the others, this episode must be included in my WIP because, should my MS one day be published, the people around here will certainly remember this particular incident. So a goodnight to all of you.
Do you dream about your WIP?
Have any of your night visitations been useful to the work in hand?
Last edited: