Staff member
Guardian
Full Member
You may notice we have a new dropdown topic in Cafe Life - Inspiration!
Here's a something to tick that box.
Writing is a fantastic business to be involved in - but as we all know sometimes the going gets tough.
A tale here with a happy ending that may just inspire you to keep on keeping on..
Don't give up!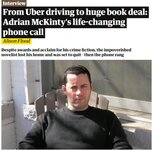 Last edited: