The wolf in Little Red Riding Hood. That wasn't too much to ask really, was it? My cartoon for an alternative version of the old fairytale, 1998.
Alternative fairytales, or twists on them remain very much in vogue.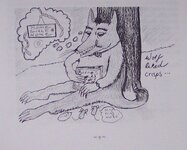 Recently I watched a film based on Bluebeard,
'Elizabeth Harvest'
It's a rich mine.