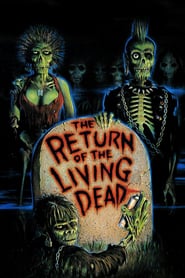 Title:
The Return of the Living Dead
Tagline:
They're Back From The Grave and Ready To Party!
Genre:
Comedy, Horror
Director:
Dan O'Bannon
Cast:
Clu Gulager, James Karen, Don Calfa, Thom Mathews, Miguel A. Núñez Jr., Beverly Randolph, Brian Peck, Jonathan Terry, John Philbin, Linnea Quigley, Jewel Shepard, Mark Venturini, Cathleen Cordell, Drew Deighan, James Dalesandro, John Durbin, David Bond, Bob Libman, John Stuart West, Michael Crabtree, Ed Krieger, Robert Craighead, Paul Cloud, Derrick Brice, Leigh Drake, Terrence Houlihan, Allan Trautman, Robert J. Bennett, Jerome 'Daniels' Coleman, Cherry Davis
Release:
1985-05-15
Runtime:
91
Plot:
When a bumbling pair of employees at a medical supply warehouse accidentally release a deadly gas into the air, the vapors cause the dead to re-animate as they go on a rampage seeking their favorite food: brains!
Dark comedy-horror with a brilliant soundtrack, excellent acting and witty dialogue. Usually on UK Netflix.