It's release day for
THE PRICE OF SECRECY - The Weathermen 3!!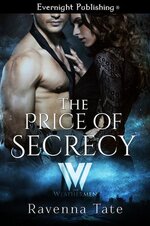 http://www.evernightpublishing.com/the-price-of-secrecy-by-ravenna-tate/
Angela Davidson lands her dream job with Greco Communications, but quickly learns her new boss, the enigmatic Dominic Greco, has a dark secret he works hard to conceal. Angela understands secrets because she's been hiding one of her own for sixteen years and if it's discovered, she will end up dead.
Dominic is part of a group of friends financing the efforts to put a stop to The Madeline Project. The program now has a mind of its own, thanks to a virus called Tommy Twister. These men have power, resources, and money, but they're as ruthless and possessive as the storms ravaging Earth.
They call themselves the Weathermen…
~~~~
AND….
ONE NAUGHTY FANTASY
has a cover!!! This book is part of Evernight's
Romance On The Go
line and features the same three characters as in
SNOWBOUND.