So, opinions sought before I finalise the cover design which is some way off being needed. I'm not expecting to release 'Ceridwen and the Order of the Future Keepers' until June, as I'll be moving next month....
So, obviously this is the rear cover, please ignore the copyright bit as that won't be on the final version, just put it there for the obvious reason. So I know the cover of my first novel was - yep, very basic. Second one I rather liked apart from the bit of pink text, maybe not the best choice. One other vote for, one against
Third one, (Merlin and Ceridwen) generally liked, and the front cover for this one, similar style and also done by my daughter. I'll get to it another time. PS small version of the rear cover uploaded.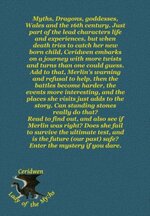 Any opinions greatly appreciated, and no rush either. I have plenty of work, editing etc. to do. Thanks, as always.