1.
All my tweets will now be in haiku.
It's the only sane way for me to cope with the short-attention span theater that is crippling today's-- OMG you already tracked off, f*** me!
Recent tweet:
Happiness isn't
Designing your own website
With no prior skills
(#haiku,
#killmenow #etc.)
Which segues nicely (it's what I do) into.
2.
www.iansiballs.com is up and running!
Have newfound respect for my programmer friends who said, to a woman, "Yeah, we don't have time for this bs, do it yourself." (this includes-- so... hard... to... admit-- Agent Pete-- OMG all the tubes and wires behind Litopia must be a nightmare. In the words of my people, Big ups, yo!)
Almost cried three times in doing it-- did cry once. Site has lots of hyperlinks to Litiopa, LAD and the colony as well. If anyone has a moment to test the thing for leaks, fill the form in, have a click 'round, 'twould be gratefully appreciated. Turns out I gottit up just in time too because: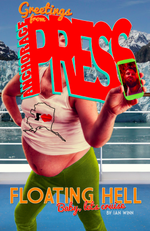 3.
My crying-on-the-inside Alaska Cruise article, Floating Hell, was published yesterday in the Anchorage Press.
Because the cruise itself precipitated a months' long clinical depression (my second) any pleasure that can be derived from that experience is doubly sweet. The piece was accepted immediately upon submission two years ago with the caveat that I "distill it into a top 10 list." Which, to my short-term detriment I refused, stating, "With respect, I am loathe to contribute to a media that discourages people from reading, let alone writing, full articles." Really pleased to have stuck to my guns defending one of this colony's most cherished endeavors: long form writing-- huzzah!
and that, my friends, is all the fanfare that doesn't rhyme with Nantucket!
thank you for your iballs.
mwah!