Thank you for allowing me to shamble, blinking into the colony. When's the hive-mind start? Did I miss it? I brought fruit!
One of the first things (patient, blessed, long-suffering) Agent Pete said when he read my work was (pained English expression) "You're a bit wordy." Can you believe? The cheek! As if that's a bad thing! As if the last three sentences were (like this parenthetical) extraneous!
Fine: I hrby rslve 2 b <wrdy. Wsh me ***k!
In the meantime: in the middle of Litopia AFter Dark reboot I've decided to become very squeeeee! about new project: a short story book based on the near-terminal misadventures of my yoof. Halfway through, fastest thing I've ever been happy with. Currently awaiting wife's reaction, always didgy (is that a word? she uses it a lot but red-line spell thing says no)
Last book I read: Denis McKenna's Brotherhood of the Screaming Abyss which provides some context for the life and untimely demise of Terence McKenna, of one of the greatest minds I ever met. Humanizes him. Would love to get Denis on LAD but so far no reply. Dude's probably tired of T's old fan boys saying, hey, your brother was a beautiful man....
Currently reading: Rise of the Warrior Cop by Radley Balko. About the *actual* jack-booted thugs the American government has installed in every town, more than happy to pry your gun from your cold, dead fingers. They call them "police". Swat please!
Lunch was: wood-fired pizza and two pints of stout. And therefore brilliant.
Now: about to go see how other people approach this forum. And then figure out how to remove this post.
(damn that was wordy)
this guy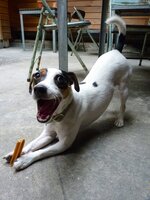 Last edited by a moderator: