Really pleased to have tax-resistor, culture jammer, author and (whisper it)
Techno-Pagan Octopus Messiah
character
David Gross on Litopia After Dark
!
I remember when Shock and Awe began in Iraq and dude just went: no more. Brought himself below the tax threshold and began figuring out ways to clear his conscience by reducing his personal contribution to the war as much as possible. He used to carry around this little red notebook writing down the price of everything he bought in an effort to downsize. Took it super-serious too. The only way I got him to a baseball game was as a birthday present-- some six months before his actual birthday when I gave him #nothing.
A decade later he's still at it and even wrote a book on the subject: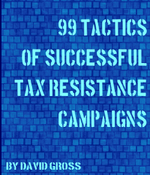 He's had success self-publishing before (wrote the definitive biography of Mark Twain contemporary Fitz Hugh Ludlow-- put it on CD-Rom too, the mug!) and says sales are ticking over nicely for
the one he's promoting now
on the show. Really impressed by his principled stand. And yes, he was one of the ministers at our wedding. Regard the following at your peril (children look away). Colony: you're welcome. Enjoy the show!