Now is the time of year when newspapers and websites are full of lists detailing critics and authors' best books of the previous twelve months. I gave my favourite reads of
2017
, so I'll continue the tradition with my baker's dozen (or so) of favourite reads.
Not all of my choices were published this year, and there are several novels that are part of long series, as well as a couple that are sequels or prequels to successful stories.
1)
Lamentation
by C. J. Sansom.
The sixth story in the Matthew Shardlake series, I can't praise these books enough. Even if you don't normally read historical fiction, you'd like them, as they hook the reader in. I prefer Sansom's handling of the Tudor period to that of Hilary Mantel, as he has more warmth in his writing and conveys the fears of ordinary citizens better. A new story in the series was published in October, called
Tombland.
2)
Robicheaux
by James Lee Burke.
I've read all of the Dave Robicheaux series and this is the twenty-first story. Burke is a writing heavyweight whose technique is something to aspire to. He gives a strong sense of place, tying historical events into contemporary attitudes with great characterisation.
3)
All That Remains: A Life In Death
by Professor Sue Black.
A humbling read from a Professor of Anatomy and Forensic Anthropology, who literally knows death inside out. Not as macabre as you might think, with unexpected moments of humour, her memoir is gripping and full of wisdom.
4)
Norwegian By Night
& its sequel
American By Day
by Derek B. Miller.
An unexpected pleasure. I'd read favourable reviews, but Miller's unusual approach to crime writing surprised me, giving me food for thought, as he goes off at tangents, making his stories as much character portrayals as they are entertaining and involving mysteries.
5)
Underground Airlines
by Ben H. Winters.
I normally steer clear of alternate histories, but I liked the blurb on the cover of this novel that I picked up in the library. I was soon hooked, as the author's premise of a continuing form of slavery was believable and there were plenty of 'what-would-you-do?' thrills. Good characterisation and an effective condemnation of corporate America. I preferred it to Colson Whitehead's highly-praised
The Underground Railroad
which won several literary prizes.
6)
The Last Painting Of Sara De Vos
by Dominic Smith.
I've already praised this novel a couple of times on the Colony. I read it as part of my research into the world of art and forgery, as my latest
Cornish Detective
novel is set in the art colony of Saint Ives. I was captivated by the masterful writing and how the author wove two time periods into the narrative. Smith has a lightness of touch using arresting imagery that makes you think deeply about creativity and possession of the finished product.
7)
The Rules Of Magic
by Alice Hoffman
.
A prequel to
Practical Magic
Hoffman's most successful novel, and adapted into a Hollywood movie. The author weaves her spell in an entrancing way, encouraging the reader to believe that witchcraft has a place in contemporary society. Deft handling of intimate moments that make you feel a part of the story.
8)
Sapiens: A Brief History Of Mankind
by Yuval Noah Harari.
This book appeared on so many listicles, that it almost put me off reading it. I'm glad that I did, for it's a mind-expanding challenge. The author sometimes makes rather woolly assertions, which made me wonder if he was being deliberately provocative, as surely such and such was more likely....Damn it, he made me think!
9)
French Exit
by Patrick deWitt.
After enjoying
The Sisters Brothers
,
which was an offbeat Western, I wondered how the author would handle a modern setting. The plotting is off kilter, making you wonder what's going to happen next...almost as if deWitt is throwing a dice to decide the action. The mother and son protagonists are not people you'd want to get too close to, as you'd be safer observing them at a distance. Gloriously and madly self-destructive, they stick in the memory. Oh, and there's also a bonkers cat character called Small Frank who's the reincarnation of the mother's dead husband! A fun read.
10)
Pendulum
by Adam Hamdy.
You know how we're advised to start our story with a hook, and that it's wise to have a moment of tension or a question at the end of each chapter, that compels the reader to turn the page? Well, try reading Adam Hamdy's third novel, which does just this really well. His hero is quite the most resistant to injury character I've encountered, but the plot is thrilling and the tension never quits.
11)
Olive Kitteridge
by Elizabeth Strout.
Powerful storytelling with a strong sense of place in a claustrophobic coastal community in Maine. Sure to divide sympathies, the main character Olive is a force of nature. Lots of truth about what it means to be human, so not always an easy read.
12)
The Narrow Road To The Deep North
by Richard Flanagan.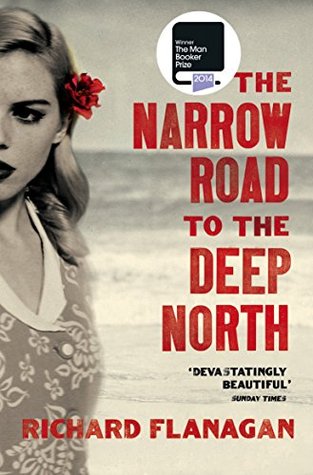 I was drawn to read this novel, after watching a
BBC documentary
on Flanagan in which he discussed the writing of it. He's a personable chap, with his feet firmly on the ground and not one to bullshit about the mysteries of his craft. His novel is also fluff-free and though a harrowing read is life-affirming.
13)
Walter Mosley
....This year, I read his
Rose Gold, Known To Evil, When The Thrill Is Gone, Down The
River Unto The Sea, And Sometimes I Wonder About You
and finally
And All I Did Was Shoot My Man.
Not only does he come up with brilliant titles, but his plotting is serpentine and engrossing. Mosley is great at thumbnail sketches of incidental characters, and inserting his MC's internal dialogue into the action. Even if you don't like crime novels, his are worth a look to see how he makes everything look so easy.
If you're new to writing and looking for an advice book, I recommend his
This Year You Write Your Novel.
It's a short book, but full of comforting and common sense tips.
What books have you enjoyed reading this year? They don't have to be recent—old favourites that you've revisited will do.