Capo Famiglia
Guardian
Full Member
Narrator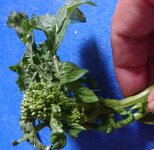 Been in Italy a week now, so high time to give you an update!
As you may know, I love Naples and the Campania region. Have never explored the Amalfi coast, which is a major Italian destination. Flew into Naples last Monday, booked one (cheap) night in a palazzo originally built by the Medici. It felt solid, secure, fortified - more like a Scottish broch than anything more fancy / ornate. The owner picked us up from the airport, which was very nice of him, saving the usual haggle with Neapolitan taxi drivers.
Next morning off to Amalfi (coffee first in Gambrinus) via two ferries, first one to Sorrento for for lunch, then round the Sorrentine peninsula to Amalfi.
I'm searching for something nice to say about Amalfi, but in truth it's been subject to the same plague of tourists (I'm one) that is ripping the lungs out of Venice. It's hot, humid, claustrophobically overcrowded. Even getting a local bus out of the town is a major challenge.
Finally arriving at Ravello, the village where the Bloomsbury set came to party, and wrote a bit too, Lady Chatterley's Lover included. Thankfully less of a scrum than Amalfi, it too faces a quandary - how to survive as a tourist destination without killing the thing that brings people here.
Explosions have been going off all weekend. Military grade shells that detonate midair and reverberate round the valley. Very scary. I have no idea why.
With a cheap-ish apartment here, you have the best of both worlds - eat out when you want, cook at home other times. Mostly, we cook here. Local produce is simple but spectacular. A particular highlight is finding friarielli, an ancient precursor of broccoli - leafier, more bitter, more flavorsome. Olive oil, garlic, pasta and friarielli - stupendous!
Lots of walking. Uphill or downhill, the choice is yours. As you go, admire the painstaking way the land here has been cultivated into narrow terraces, much of the soil backbreakingly transported from the alluvial deposit a thousand feet below. The work of generations.
Will report more when Ischia attained.