One for you
@Jonny
I've been playing around with the
Just The Punctuation
tool to see how my writing looks when all the words are removed to leave only the punctuation. I was curious to see if my punctuation style differed depending on what POV I wrote in or what tense. As it turns out, there's not much difference (though I've yet to test whether there's any difference when I'm writing non-fiction/blogging compared to my creative stuff).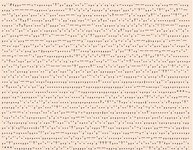 (The Rarkyn's Familiar - 3rd POV, past tense)
(Dingo & Sister - 1st POV, present tense).
What do yours look like?