Attention Litopians! Grizzled hack, double
Litopia After Dark
guest and top bloke Tim Butcher needs our help.
If you have a Goodreads account (easy to register through faceberk) PLEASE SHOW TIMBO SOME LOVE by voting for his excellent
Blood River
and moving it up from the 294th spot-- surely it deserves better than Twilight or ****ing Marley and Me!
Just follow the link to where BR is mentioned and vote for the book!
https://www.goodreads.com/list/show/7.Best_Books_of_the_21st_Century?page=2
(besides, look how gracious his plea is-- could he *be* any more English?)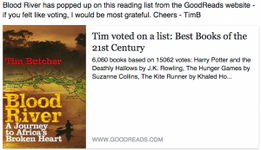 I have it on good authority that for every vote he gets, Tim won't shave for one full year!
(that authority being mine
)
Thanks so much!
(Also: Tim's
LAD Blood River podcast
is ace-- all about his near-fatal misadventures up the Congo and other African hellworlds he had no business being, other than to write the good write.)
(as is
his podcast concerning the Trigger
, his book on retracing the steps of assassin Gavrillo Princip)
Last edited by a moderator: