Prompted by a discussion on another thread, shall we dig out some of our own favourite illustrators for general edification?
So many, so many...I, like so many, grew up with Arthur Rackham and Beatrix Potter and they're a classic choice but I nominate Alan Lee for starters.
Lee was influenced by Alan Rackham . He trained in London, studying graphics and Fine art and his medium was mostly watercolour.
Here's the cover illustration for 'Black Ships Before Troy', the Iliad retold by Rosemary Sutcliffe.
How frightening are those ships?
Alan Lee, born 1947 is known as a fantasy artist, and was one of the concept artists used for the staging and design of Peter Jackson's movie trilogy
The Lord Of The Rings
VIDEO BOOK REVIEW HERE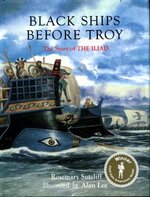 And Tolkein's ring wraiths...