Full Member
Here is Freya, travelling in style as she does, in her chariot drawn by cats.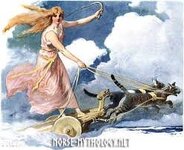 SOURCE An Animated History of Cats: How Over 10,000 Years the Cat Went from Wild Predator to Sofa Sidekick

Felis silvestris lybica
, a subspecies of wildcat that can be traced to the Fertile Crescent some 12,000 years ago, emerges as the true star.
In a Neolithic spin of "
The Farmer in the Dell
," the troughs and urns in which ancient farmers stored surplus grain attracted mice and rats, who in turn attracted these muscular, predatory cats.
They got the job done.
Human and cats' mutually beneficial relationship spelled bad news for the rodent population, but survival for today's 600-million-some domestic cats, whose
DNA is shockingly similar
to that of its prehistoric ancestors.
Having proved their value to the human population in terms of pest control, cats quickly found themselves elevated to welcome companions of soldiers and sailors, celebrated for their ability to knock out rope-destroying vermin, as well as dangerous animals on the order of snakes and scorpions.
Thus did cats' influence spread.
Bastet
, the Egyptian goddess of domesticity, women's secrets, fertility, and childbirth is unmistakably feline.
Cats draw the chariot of Freya
, the Norse goddess of love.
Their popularity dipped briefly in the Late Middle Ages, when humankind mistakenly credited cats as the source of
the plague
. In truth, that scourge was spread by rodents, who ran unchecked after men rounded up their feline predators for
a gruesome slaughter
.
Last edited: