Apparently today is national
Bat Appreciation day.
..here in the UK anyway. The bats are wakey- wakeys now after their winter hibernation. I like them, if they don't have rabies.
Bats in Literature anyone? Bats in fiction. Great bat stories! Bags I go first (as I have the unfair advantage here)
Night Wing by Martin Cruz Smith
A disgruntled, disenfranchised Hopi shaman sets out to "end the world" by way of a ritual invocation of the Hopi god of death. Shortly after his mutilated corpse is discovered by a skeptical Tewa deputy the body count begins to rise as more strangely slashed and bloodied victims are found.
The book has many elements: part love triangle; part Native American case study; part supernatural thriller. It was the author's own tribal ancestry which inspired the writing of this fictionalized anthropological mini-survey.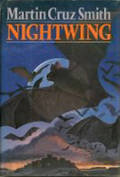 (Wiki)
How do the gods kill you, should you arouse their wrath? With what's available in their own habitat, obviously. It scared the BJ out of me. OMG what a way to go, 'one of the goodies', drowned in the dark in bat guano!
And there's this uncomplimentary poem from DH Lawrence:
Bat
At evening, sitting on this terrace,
When the sun from the west, beyond Pisa, beyond the mountains of Carrara
Departs, and the world is taken by surprise ...

When the tired flower of Florence is in gloom beneath the glowing
Brown hills surrounding ...

When under the arches of the Ponte Vecchio
A green light enters against stream, flush from the west,
Against the current of obscure Arno ...

Look up, and you see things flying
Between the day and the night;
Swallows with spools of dark thread sewing the shadows together.

A circle swoop, and a quick parabola under the bridge arches
Where light pushes through;
A sudden turning upon itself of a thing in the air.
A dip to the water.

And you think:
"The swallows are flying so late!"

Swallows?

Dark air-life looping
Yet missing the pure loop ...
A twitch, a twitter, an elastic shudder in flight
And serrated wings against the sky,
Like a glove, a black glove thrown up at the light,
And falling back.

Never swallows!
Bats!
The swallows are gone.

At a wavering instant the swallows gave way to bats
By the Ponte Vecchio ...
Changing guard.

Bats, and an uneasy creeping in one's scalp
As the bats swoop overhead!
Flying madly.

Pipistrello!
Black piper on an infinitesimal pipe.
Little lumps that fly in air and have voices indefinite, wildly vindictive;

Wings like bits of umbrella.

Bats!

Creatures that hang themselves up like an old rag, to sleep;
And disgustingly upside down.

Hanging upside down like rows of disgusting old rags
And grinning in their sleep.
Bats!

In China the bat is symbol for happiness.

Not for me!
Last edited: