Basic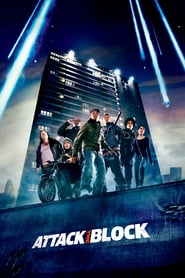 Title:
Attack the Block
Tagline:
Inner City vs. Outer Space
Genre:
Action, Comedy, Science Fiction
Director:
Joe Cornish
Cast:
Jodie Whittaker, John Boyega, Nick Frost, Alex Esmail, Luke Treadaway, Selom Awadzi, Franz Drameh, Simon Howard, Jumayn Hunter, Leeon Jones, Sammy Williams, Michael Ajao, Paige Meade, Danielle Vitalis, Gina Antwi, Natasha Jonas, Terry Notary, Chris Wilson, Joey Ansah, Adam Leese, Adam Buxton, Maggie McCarthy, Flaminia Cinque, Jacey Sallés, Yvonne D'Alpra, Karl Collins, Jermaine Smith, Lee Long, David Cann, Dylan Charles, Lee Nicholas Harris, Stephanie Street
Release:
2011-05-12
Runtime:
88
Plot:
A teen gang in a grim South London housing estate must team up with the other residents to protect their neighbourhood from a terrifying alien invasion.
I love the sense of place, the delimited, perfectly realized location (even the soccer flag hanging from the balcony is there for a reason), the colorful cast of side characters literally bursting with personality. I love the movie's breakneck pacing and the way it knows how to look good despite the low budget. I love the way it takes a gang of young hoodlums and gradually shows you little flashes of humanity until you care about them. I love this movie..