Capo Famiglia
Guardian
Full Member
Pleased to announce a new deal I've just concluded, for very fast publication. Particularly happy that this is a non-fiction title, very relevant to the times we find ourselves living in, I think.
-----
Head of Zeus Press Release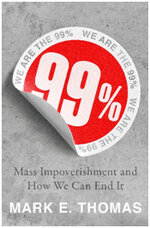 99%
By Mark Thomas
Publication Date: 8th August 2019
Flapped Trade Paperback £14.99, Ebook​


After decades of working for a major international consulting firm, Mark Thomas quit his job and began the 99% Organisation. His mission: to end mass impoverishment.
No generation in modern history has been poorer than its parents. And trends indicate they could be quite a lot poorer. If we continue, mass impoverishment will mean that by 2050 the UK's median earner will be almost half way to today's poverty income.
99%
is Mark's clear, readable analysis of the unprecedented and inescapable fact that this is the first generation in living memory who can expect to be poorer than their parents, even as the economy continues to grow.
Packed full of facts, analysis and rallying advice,
99%
is a call to arms for the masses to challenge government to clean up capitalism. After years working at the beating heart of the capitalist establishment, Mark has an insider's perspective on the failings of our economy and a clear vision of how we can impact change.
If the pie is growing, why aren't we all getting bigger slices? If we are so well-off, why is our children's generation set to be the first in living memory to be worse-off than its predecessors?
Using Mark's deep and rigorous understanding of the economy, and clear and analogous explanations,
99%
is a manifesto for abundance, showing what we, the 99%, can do to end mass impoverishment and build a society worth living in, in which everyone benefits.
ABOUT THE AUTHOR

Mark Thomas ran the Strategy practice at PA Consulting Group for many years.
During this time, he began to explore whether the tools and techniques of business strategy could be applied to understanding the health and stability of countries. This research let him to the uncomfortable conclusion that many developed countries – including the US and the UK – are unwittingly pursuing economic policies which will result in the unwinding of 20th century civilisation before we reach the year 2050. Hearteningly, he also concluded that this fate is entirely avoidable. Mark is also the author of
The Complete CEO, Surviving and Thriving in the Economic Crisis
and
The Zombie Economy
. He has a degree in Mathematics from Cambridge University and is the founder of The 99% Organisation, a movement that works to end mass impoverishment. He lives in Herefordshire.
Mark Thomas is represented by Redhammer Management
'If you are concerned about your future but would never dream of reading a book about the economy… you should read this one!'
Hugh Pym, BBC Health Editor, Former BBC Chief Economics Correspondent
'Policy-makers face stiff challenges. 99% will help them to navigate the minefield.'
Andrew Harrop, General Secretary of the Fabian Society


'In the age of Trump, Putin, and Brexit, it is difficult to be an optimist. But 99% opens a route forward – it deserves to be read by all those in a position of influence.'
Sten Scheibye, Former Chairman of Novo Nordisk
'Structural changes in society risk creating a generation poorer than its parents. 99% clearly sets out both the problem and its solution.'
Fiona Devine, Head of Alliance Manchester Business School and Professor of Sociology at The University of Manchester


'Without concerted action, many countries face the prospect of a lost generation. This book will start a movement to prevent that from happening.'
Nicholas Anderson, Chief Executive Officer, Spirax‑Sarco Engineering plc


'Mark's book provides the story which is likely to drive material regime change in markets. All investors who purport to serve their clients should read it.'
Henry Maxey, Chief Investment Officer, Ruffer LLP


'Anyone thinking of studying economics should first read 99%.'
Steve Keen, Professor of Economics at Kingston University


'99% shows how business can be a force for good in a mixed economy – and the role Government must play to make this happen.'
David Pitt-Watson, Former CEO of Hermes Focus Asset Management and Visiting Fellow at Cambridge University