I am sick when when I do look on thee....
and other Shakespearean insults unsuitable for use in any work of modern prose.
?
He's not had many mentions here, while sprawled like a birthday bawd over the rest of....everywhere.
And fair enough. The Bard hath forged many a deathless line and doth represent a great UK industry and export.
For me, far and away the greatest has got to be....ssshhh - the Scottish play.
Shakespearean abuse for thespo-geeks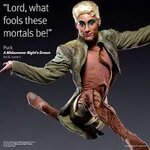 But do you have a favourite line from Shakespeare? One of mine is,
'Full Fathom Five Thy Father Lies'... The Tempest
Last edited: