Basic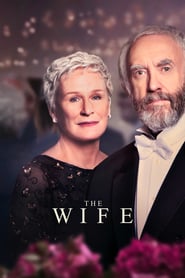 Title:
The Wife (2018)
Tagline:
Secrets lie between the lines
Genre:
Drama
Director:
Björn Runge
Cast:
Glenn Close, Jonathan Pryce, Christian Slater, Max Irons, Annie Starke, Harry Lloyd, Elizabeth McGovern, Alix Wilton Regan, Johan Widerberg, Karin Franz Körlof, Richard Cordery, Jane Garioni, Jan Mybrand, Anna Azcárate, Suzanne Bertish, Grainne Keenan, Mattias Nordkvist, Michael Benz, Twinnie Lee Moore, Carolin Stoltz, Catharina Christie, Morgane Polanski, Twinnie Lee Moore
Release:
2018-08-02
Runtime:
100
Plot:
A wife questions her life choices as she travels to Stockholm with her husband, where he is slated to receive the Nobel Prize for Literature.
A wife is actually the writer, but it's her husband's name on the books. How did this come about? What's she going to do about it now 'he' has won the Nobel prize for Literature, while telling people his wife is his muse, but she doesn't write? A love story, despite all. Did I like it? There's no one to warm to, so not exactly, but it's always interesting, the bargains people make with themselves. This wife is angry, but it was her who created this situation, and entrapped them both. She is not a victim.