Capo Famiglia
Guardian
Full Member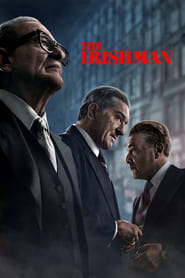 Title:
The Irishman
Tagline:
His story changed history
Genre:
Crime, History, Drama
Director:
Martin Scorsese
Cast:
Robert De Niro, Al Pacino, Joe Pesci, Ray Romano, Bobby Cannavale, Anna Paquin, Stephen Graham, Harvey Keitel, Stephanie Kurtzuba, Kathrine Narducci, Welker White, Jesse Plemons, Jack Huston, Domenick Lombardozzi, Paul Herman, Louis Cancelmi, Gary Basaraba, Marin Ireland, Sebastian Maniscalco, Steven Van Zandt, Lucy Gallina, Jonathan Morris, Dascha Polanco, Bo Dietl, Aleksa Palladino, Daniel Jenkins, Jim Norton, Billy Smith, Kevin O'Rourke, Action Bronson, Glenn Cunningham, Paul Ben-Victor, Patrick Gallo, James Martin, Jake Hoffman, Barry Primus, Danny A. Abeckaser, Anthony J. Gallo, J. C. MacKenzie, Joseph Bono, Jamil Antonio Stefan, Louis Vanaria, Craig Vincent, John Polce, Joseph Riccobene, Vinny Vella, Thomas E. Sullivan, John Cenatiempo, Robert Mladinich, Rich Reilly, Robert Funaro, Tess Price, Jennifer Mudge, India Ennenga, Jordyn DiNatale, Kate Arrington, Bernie Martin, Philip Suriano, Tony Suriano, Jason A. Iannacone, Michael C. Brennan, James P. Harkins, Al Linea, Garry Pastore, Frank Pietrangolare, Frank Aquilino, Johnny T. Sollitto, Patrick Murney, Samantha Soule, Richard V. Licata, Vito Picone, Larry Mazza, Craig DiFrancia, Ira Drukier, Jon Bruno, Paul Borghese, Steven Maglio, James Licata, Veronica Alicino, Mike Massimino, James Ciccone, Ron Castellano, Marco Greco, Meghan Rafferty, Aldo Sergi, James Lorinz, Jeffrey Paul, Robert C. Kirk, Vincent Maritato, Lawrence Smith, Rebecca Faulkenberry, Ken Wulf Clark, John Rue, Steve Routman, Fernando Vera, Peter Claymore, Charles DelGatto, Michael Gongora, Eugene Bunge, Matthew F. O'Connor, Cliff Moylan, Vincenzo DelRiccio, Steve Beauchamp, Alfred Sauchelli Jr., Joe Giorgio, Diana Agostini, Lauren Aparicio, Kelley Rae O'Donnell, John Garrett Greer, Jack Caruso, John Scurti, Thomas J. Jenkins, Steve Witting, Luke Smith, Brent Langdon, James D. Forsha, Giacomino J. Matra, Paul Pearlman, Frank L. Messina, Cilda Shaur, Dominick LaRuffa Jr., Erick Zamora, Joe Caniano, Lou Martini Jr., Michael Bottari, John Bianco, Margaret Anne Florence, Siena Marino, Lori Arkin, Nicholas Chrysan, Samantha Coppola, Logan Crawford, Jeff DeHart, Mark Fairchild, Blaise Corrigan, Jill Brown, Tim Neff, Matt Walton, Peter J. Fernandez, Stephen Mailer, Gino Cafarelli, Robin Kerbis, Lucia Giannetta, Michael Romeo Ruocco, Anne Horak, Nina Lafarga, Clark Carmichael, Joseph Russo, Jeremy Luke, Barbara Eyland, Tracy J. Everitt, Saint Marino, Mario Corry, Johnny Potenza, Joe Passaro, Patrick Borriello, Alfred Nittoli, David Aaron Baker, Stanley Burns, Bill Timoney, Thomas J. McDonald, Virl Andrick, Ernest L. Sanders Jr., Bill McHugh, Kevin Kane, Amelia Brain, Craig Castaldo, Jacqueline Kennedy, John F. Kennedy, Fidel Castro
Release:
2019-11-01
Runtime:
209
Plot:
Pennsylvania, 1956. Frank Sheeran, a war veteran of Irish origin who works as a truck driver, accidentally meets mobster Russell Bufalino. Once Frank becomes his trusted man, Bufalino sends him to Chicago with the task of helping Jimmy Hoffa, a powerful union leader related to organized crime, with whom Frank will maintain a close friendship for nearly twenty years.
Not a review. Altho I did think the last 15 mins could have been profitably removed.
Simply amazed that I could either (a) pay 50 quid for two tickets to see this film at my local cinema; or (b) watch it (effectively) for free on Netflix.
This reflects a destruction in value, and as an agent, it worries me.