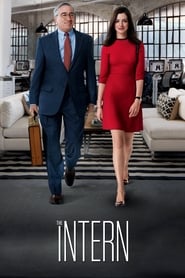 Title:
The Intern
Tagline:
Experience never gets old
Genre:
Comedy
Director:
Nancy Meyers
Cast:
Robert De Niro, Anne Hathaway, Rene Russo, Anders Holm, JoJo Kushner, Andrew Rannells, Adam DeVine, Zack Pearlman, Jason Orley, Christina Scherer, Nat Wolff, Linda Lavin, Celia Weston, Steve Vinovich, C.J. Wilson, Mary Kay Place, Erin Mackey, Christina Brucato, Wallis Currie-Wood, Molly Bernard, Paulina Singer, Annie Funke, Christine Evangelista, Julee Cerda, Peter Vack, Nikki Granatell, Liza Binkley, Eshan Bay, Caitlin Kinnunen, Tristan Griffin, Sydney Morton, Brandon Tyler Harris, Elena Shaddow, Liz Holtan, Claire Saunders, G. Keith Alexander, Susan Feldman, Mark D. Sikes, Drena De Niro, Max von Essen, George Merrick, Casey Benjamin, Ruby Motz, Emma Angstadt, Eliud Kauffman, Jenny Fellner, Sean Kleier, Elliot Villar, Tiffany Chen, Nikki James, Mayumi Miguel, JoAnna Powell, Dan Castiglione, Edie Cowan, Ronald Duncan, Michael Mann, Leasen Beth Almquist, Leah O'Donnell, William Ryall, Djassi DaCosta Johnson, Ashley Amber Haas, Michael Gorman, Katherine Argo, Matt Wall, Daniel A. Weiner, Frazer Brown
Release:
2015-09-24
Runtime:
121
Plot:
70-year-old widower Ben Whittaker has discovered that retirement isn't all it's cracked up to be. Seizing an opportunity to get back in the game, he becomes a senior intern at an online fashion site, founded and run by Jules Ostin.
As a person of too many years (gulp) I can only describe this as delightful. De Niro doing his effortless best in an initially confusing world where experience shows through. Rene Russo is just (swoon) in too small a part. She can do my feet anytime.