Basic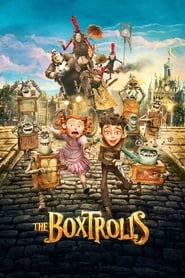 Title:
The Boxtrolls (2014)
Tagline:
When troubles strikes friends stack together
Genre:
Animation, Comedy, Family, Fantasy
Director:
Anthony Stacchi, Graham Annable
Cast:
Ben Kingsley, Isaac Hempstead-Wright, Elle Fanning, Dee Bradley Baker, Toni Collette, Jared Harris, Nick Frost, Richard Ayoade, Tracy Morgan, Simon Pegg, Nika Futterman, Pat Fraley, Fred Tatasciore, Max Mitchell, Maurice LaMarche, James Urbaniak, Brian George, Lori Tritel, Steve Blum, Laraine Newman, Reckless Jack
Release:
2014-09-10
Runtime:
97
Plot:
An orphaned boy raised by underground creatures called Boxtrolls comes up from the sewers and out of his box to save his family and the town from the evil exterminator, Archibald Snatcher.
Snatcher would be a better title. While the protagonists lack charisma and personality the vividly realized, grotesquely animated Archibald Snatcher-a daft, social climbing, cross dressing cockney exterminator with a massive cheese allergy and still more massive inferiority complex-is (no joke) the funniest, saddest and finally most human villain ever to grace a kids cartoon. Voiced wonderfully by Ben Kingsley, he is the highlight and the entire movie is really his ironic hero's journey.