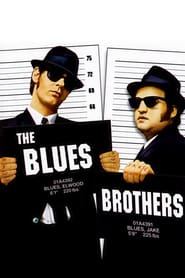 Title:
The Blues Brothers
Tagline:
They'll never get caught. They're on a mission from God.
Genre:
Music, Comedy, Action, Crime
Director:
John Landis
Cast:
Dan Aykroyd, John Belushi, James Brown, Cab Calloway, Ray Charles, Aretha Franklin, Steve Cropper, Donald "Duck" Dunn, Murphy Dunne, Willie Hall, Tom Malone, Lou Marini, Matt Murphy, Alan Rubin, Carrie Fisher, Henry Gibson, John Candy, Kathleen Freeman, John Lee Hooker, Tom Erhart, Gerald Walling, Walter Levine, Alonzo Atkins, Chaka Khan, Armand Cerami, Steven Williams, Kristi Oleson, Gary McLarty, Joe Cuttone, Layne Britton, Toni Fleming, Rosie Shuster, Paul Reubens, Ben Piazza, Gwen Banta, Lari Taylor, Cindy Fisher, Elizabeth Hoy, Tony M. Conde, Eugene J. Anthony, Dean Hill, Jack Orend, Gene Schuldt, Charles Mountain, Frank Oz, John Landis, Gary Houston, Judith Belushi-Pisano, Elmore James, Stephen Bishop, Charles Napier, Steven Spielberg, Curt Clendenin, Twiggy, Steve Lawrence
Release:
1980-06-17
Runtime:
133
Plot:
Jake Blues is just out of jail, and teams up with his brother, Elwood on a 'mission from God' to raise funds for the orphanage in which they grew up. The only thing they can do is do what they do best: play music. So they get their old band together, and set out on their way—while getting in a bit of trouble here and there.
Almost as old as I am but this film is so much fun. Zany, funny, off the wall with great music. Watched it once again earlier and it still brought a smile to my face.