FANFARE.
@Jonny
and I are happy to announce the birth our new writerly podcast:
Green Cows Don't Fly
. The concept is simple. We prompted A I to write a book (with a little help from us) and every week, Jonny and I banter about the latest chapter. Expect plenty of quirkiness and some general madness. Here's to fun and mild hysteria.
We would be proud to have you among our listeners.
You can find us on most podcast sites, like this one:
Follow us on social media.
Twitter: @GreenCowsPod
Instagram: green_cows_dont_fly
Facebook: GreenCowsDon'tFly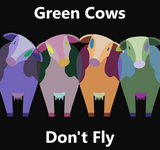 Last edited: