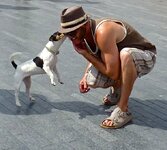 Over the last months I've noticed an enormous discrepancy between promo posts for
Litopia After Dark
.
Along the lines of:
Posting a show link with a pithy header: 10 views/responses/likes/whatevs
Posting a show link with a pithy header
AND A PICTURE OF THE DOG
: 110 views/responses/likes/whatevs
This was driving me insane at the base emotional nature of our increasingly click-bait culture.
Until yesterday when a very sensible German programmer friend dropped by. I say sensible despite his thirty color hair-do, multiple piercings and mis-matched socks. As I was ranting, a cat appeared in our back garden. I don't mind cats in the back garden at night because they hunt the mice that eat the crumbs from off the bird feeder-- but I DO mind them during the day because they hunt the birds themselves. So I give the command of "Kitty!" and the Olive dog leaps off the couch and charges snarling into the yard. And my friend goes:
"That's not a dog. That's a minion. You feed and house her-- why NOT send her forth to do your bidding?"
Why indeed?
In other words: #cutedog Olive sez:
Please share this mailer!
Fly, my monkeys-- fly!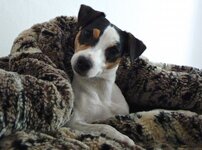 *please excuse the pomposity of this post. rant over.