Basic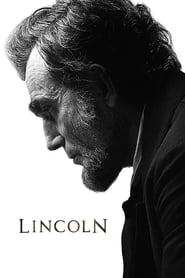 Title:
Lincoln
Tagline:
With the moral courage and fierce determination to succeed, his choices will change the fate of generations to come.
Genre:
History, Drama
Director:
Steven Spielberg
Cast:
Daniel Day-Lewis, Sally Field, David Strathairn, Joseph Gordon-Levitt, James Spader, Hal Holbrook, Tommy Lee Jones, Lee Pace, Jackie Earle Haley, Jared Harris, Bruce McGill, Walton Goggins, Tim Blake Nelson, Boris McGiver, Adam Driver, John Hawkes, Joseph Cross, Peter McRobbie, Gulliver McGrath, Gloria Reuben, Jeremy Strong, Michael Stuhlbarg, David Costabile, Stephen Spinella, Walton Goggins, David Warshofsky, Colman Domingo, Lukas Haas, Dane DeHaan, Bill Camp, Elizabeth Marvel, Julie White, Byron Jennings, Richard Topol, Walter Smith, Dakin Matthews, Wayne Duvall, Bill Raymond, Drew Sease, John Hutton, Chase Edmunds, Gregory Itzin, John Lescault, Mike Shiflett, Gannon McHale, Ken Lambert, Thomas K. Belgrey, Mary Dunleavy, Armistead Wellford, Ted Johnson, Don Henderson Baker, Raynor Scheine, Todd Fletcher, Charles Kinney, Joseph Carlson, Michael Goodwin, Edward McDonald, Jim Batchelder, Gregory Hosaflook, Joe Kerkes, William Kaffenberger, Larry Van Hoose, C. Brandon Marshall, Christopher Boyer, S. Epatha Merkerson, Robert Shepherd, Grainger Hines, Skye Dennis, Scott Wichmann, David Oyelowo, Stephen Henderson
Release:
2012-11-09
Runtime:
149
Plot:
A revealing drama that focuses on the 16th President's tumultuous final months in office. In a nation divided by war and the strong winds of change, Lincoln pursues a course of action designed to end the war, unite the country and abolish slavery. With the moral courage and fierce determination to succeed, his choices during this critical moment will change the fate of generations to come.
Compelling, fascinating and very moving. Lincoln's struggle to get the 13th Amendment passed, abolishing slavery, before agreeing peace terms with the South at the end of the war. He feared that if he failed to get it through before the peace was finalised - and he had to not only agree the peace at the earliest opportunity, of course, but also
be seen
to do so - that window would be lost perhaps for many generations to come.
A study in humanity, a portrait of a difficult but not a loveless marriage...and an insight into Lincoln's genius, the sheer suppleness of mind, absolutely required to circumvent the procedure that would have killed the Amendment - and Emancipation stone dead.