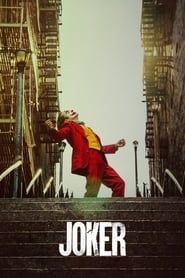 Title:
Joker
Tagline:
Put on a happy face.
Genre:
Crime, Thriller, Drama
Director:
Todd Phillips
Cast:
Joaquin Phoenix, Robert De Niro, Zazie Beetz, Frances Conroy, Brett Cullen, Shea Whigham, Bill Camp, Glenn Fleshler, Leigh Gill, Josh Pais, Rocco Luna, Marc Maron, Sondra James, Murphy Guyer, Douglas Hodge, Dante Pereira-Olson, Carrie Louise Putrello, Sharon Washington, Hannah Gross, Frank Wood, Brian Tyree Henry, April Grace, Mick Szal, Carl Lundstedt, Michael Benz, Ben Warheit, Gary Gulman, Sam Morril, Chris Redd, Mandela Bellamy, Demetrius Dotson II, Greer Barnes, Ray Iannicelli, Bryan Callen, Peter Benson, Vito Gerbino, Adam Quezada, Xavyer Ureña, Evan Rosado, Damian Emmanuel, Mike Troll, Jane Fergus, David Gibson, Tony D. Head, Jeff McCarthy, Kim Brockington, Troy Roberts, Lou Young, Michael-Scott Druckenmiller, Craig Austin, John Cenatiempo, Danny Schoch, Keith Buterbaugh, James Ciccone, Rich Campbell, Roger Squitero, Steven Elson, Graham Mabry, John Alldred, Alonzo Wright, Jack Wilkins, Richard Baratta, Jolie Chan, Mary Kate Malat, Adrienne Lovette, Justin Theroux, Alissa Bourne, Jamaal Burcher, Dj Nino Carta, John Cashin, Jason John Cicalese, Brendan Patrick Connor, Blaise Corrigan, Dennis Jay Funny, Matthias Sebastiun Garry, James P. Harkins, Joseph Hernandez, Ben Heyman, Michael Lepre
Release:
2019-10-02
Runtime:
122
Plot:
During the 1980s, a failed stand-up comedian is driven insane and turns to a life of crime and chaos in Gotham City while becoming an infamous psychopathic crime figure.
I enjoyed this. Had lots of levels to get into.