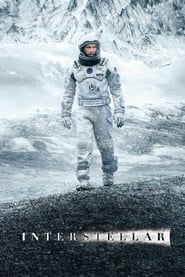 Title:
Interstellar
Tagline:
Mankind was born on Earth. It was never meant to die here.
Genre:
Adventure, Drama, Science Fiction
Director:
Christopher Nolan
Cast:
Matthew McConaughey, Jessica Chastain, Anne Hathaway, Michael Caine, Casey Affleck, Mackenzie Foy, Timothée Chalamet, Bill Irwin, Matt Damon, Ellen Burstyn, John Lithgow, Wes Bentley, Topher Grace, David Oyelowo, David Gyasi, William Devane, Josh Stewart, Collette Wolfe, Leah Cairns, Russ Fega, Lena Georgas, Jeff Hephner, Elyes Gabel, Brooke Smith, Liam Dickinson, Francis X. McCarthy, Andrew Borba, Flora Nolan, William Patrick Brown, Cici Leah Campbell, Kristian Van der Heyden, Mark Casimir Dyniewicz, Joseph Oliveira, Ryan Irving, Alexander Michael Helisek, Benjamin Hardy, Griffen Fraser
Release:
2014-11-05
Runtime:
169
Plot:
Interstellar chronicles the adventures of a group of explorers who make use of a newly discovered wormhole to surpass the limitations on human space travel and conquer the vast distances involved in an interstellar voyage.
A good film I thought.
Some of the acting is a little dull but the physics is spot on and very accurately portrays the time lapse problems related to distant space travel and relativistic effects.
A bit nerdy perhaps but I liked it.