Tomorrow is Thanksgiving Day here in the USA. There is so much to be thankful for that I'm not sure where to begin. <3 My husband and daughter, the home we live in, the food we eat, and the fact that we're able to walk, talk, use our arms and legs, and process thoughts.
I'm thankful for my day job, even when I gripe about it, and I'm thankful for this writing gig, even though I wish I had more time to do it.
I'm thankful for all of you, whether we've met in real life or not, because YOU are real. You're my friends and confidants. You're the people I share part of my day with, and you're there when I need prayers or a kind word.
The miracle of the Internet makes platforms like this possible. It connects us, no matter where we live on this planet, and helps us remember that we are ALL part of the same family, and are cut from the same cloth. It's a powerful and humbling realization.
So whether you're celebrating Thanksgiving this weekend or not, whether you're making dinner or spending the day volunteering in a soup kitchen, you're in my thoughts and prayers. <3 Thank you for being here. Thank you for being YOU.
If you're traveling this weekend to be with friends and family, be safe! And if you're sitting down to a Thanksgiving dinner, enjoy the food and company. <3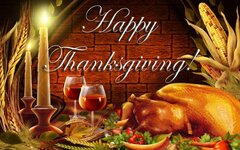 ​
Last edited: