Here's another one I found particularly interesting, and thought I'd share: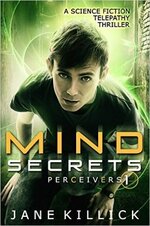 "Waking up without his memories and hunted by Agent Cooper, Michael finds sanctuary with a group of perceivers: telepaths who sense the thoughts and emotions of others. Drawn into their battle to stay free of the cure which threatens to strip them of their powers, he searches for the person who stole his past. As the tension between perceivers and norms erupts into violence, Michael pieces together the shocking truth behind the origin of their power. To save his friends from destruction, he must face Cooper and confront the painful revelations of his forgotten secrets."
http://sweetfreebooks.acemlna.com/lt.php?s=a5265e5f541b86f1d10bf1feb1d4c074&i=1069A1115A1A22841
Not sure how long the free e-book offer will last, so pay attention to the price before you download. I've accidentally bought books that way, before.