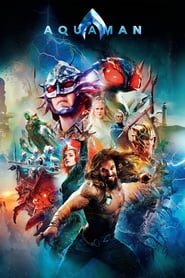 Title:
Aquaman
Tagline:
Home Is Calling
Genre:
Action, Adventure, Fantasy, Science Fiction
Director:
James Wan
Cast:
Jason Momoa, Amber Heard, Nicole Kidman, Willem Dafoe, Patrick Wilson, Dolph Lundgren, Yahya Abdul-Mateen II, Tainu Kirkwood, Tamor Kirkwood, Kaan Guldur, Otis Dhanji, Kekoa Kumano, Graham McTavish, Temuera Morrison, Ludi Lin, Randall Park, Michael Beach, Djimon Hounsou, Natalia Safran, Sophia Forrest, Leigh Whannell, Julie Andrews, Andrew Crawford, John Rhys-Davies, Patrick Cox, Jon Quested, Winnie Mzembe, Connor Zegenhagen, Gabriella Petkova, Braden Lewis, Vincent B. Gorce, Sasha Dulics, Rhianna Palmer, Robert Longstreet, Luke Owen
Release:
2018-12-07
Runtime:
143
Plot:
Once home to the most advanced civilization on Earth, the city of Atlantis is now an underwater kingdom ruled by the power-hungry King Orm. With a vast army at his disposal, Orm plans to conquer the remaining oceanic people -- and then the surface world. Standing in his way is Aquaman, Orm's half-human, half-Atlantean brother and true heir to the throne. With help from royal counselor Vulko, Aquaman must retrieve the legendary Trident of Atlan and embrace his destiny as protector of the deep.
I gotta say, I loved this even convinced
@Tim James
to watch it too