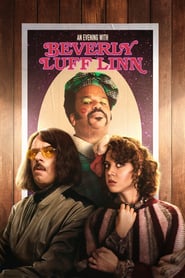 Title:
An Evening with Beverly Luff Linn (2018)
Tagline:
A love triangle with too many sides.
Genre:
Comedy
Director:
Jim Hosking
Cast:
Aubrey Plaza, Emile Hirsch, Jemaine Clement, Craig Robinson, Matt Berry, Sky Elobar, Maria Bamford, Kirsten Krieg, Michael D. Cohen, Sam Dissanayake, Jacob Wysocki, Bettina Devin, Zach Cherry, John Kerry, Gil Gex, Carl Solomon
Release:
2018-05-25
Runtime:
108
Plot:
Lulu Danger's unsatisfying marriage takes a turn for the worse when a mysterious man from her past comes to town to perform an event called "An Evening with Beverly Luff Linn: For One Magical Night Only."
Lulu Danger leaves her dull husband Shane, and runs off with an insecure and angst-riddled gunman, hoping to meet her former love Beverley Luff Linn, a man she thought was dead, drowned in the sea many years before. But the incoherent Beverley has hooked up with a new partner, Rodney Von Donkensteiger and gone on tour with a mysterious act, 'An Evening with Beverley Luff Linn', that promises to be 'Magical' for 'One Night Only.' Completely bizarre and mostly random: Napoleon Dynamite meets Twin Peaks in a strange world of eighties fashion and faded seventies decor. With a glorious cast of leads and a supporting cast that is - to put it mildly - on the quirky side, this is the best comedy I've seen in a very long time.