Basic
Erica Verillo is a long standing member at Litopia, but many here may not know that. She never joins in any discussions, only makes an occasional appearance to post information that she thinks might be of direct help to other writers looking for an agent or publisher.
Today she's tweeted
THIS
- 15 publishers looking for memoirs. No agent needed.
Erica is an author of fantasy and medical books, and is seemingly herself coping with a long term health challenge, the wretched ME/CFS according to her twitter description.
She is a treasure trove of publishing information
Thank you so much, Erica.
Twitter:
@EricaVerrillo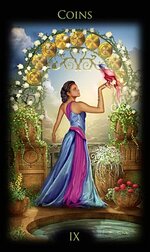 Image from the
Legacy of the Divine Tarot
, by kind permission of Ciro Marchetti
Last edited: